Anypoint Connector DevKit 3.6.1.1 Release Notes
Compatibility
| Software | Version |
| --- | --- |
| Mule ESB Runtime | 3.6.x |
| Anypoint Studio | 5.0.2 and later |
New Features
This release provides a new configuration wizard that lets you easily generate connectors with supported features and components.
Supported components are:


@Connector

@Handler

@Configuration

@MetaDataCategory

@OAuth2

@ConnectionManagement

ProviderPagingAwareDelegate

The only name not valid aside from the ones supported for Java Names, is a name that matches the component used.Example: If you are creating an @Handler, your class name cannot be Handler.

All classes have the SuperClass and Interface enabled and can be used, but ProviderPaginAwareDelegate cannot specify a parent class, since the generated class needs to extend this one.

Connector Type auto-populates for ProviderPagingAwareDelegate, ensure that you specify the collection type after creating it.

When an interface is selected, it generates the default implementation for every component. This is resolved by the platform, there is no custom code from our side.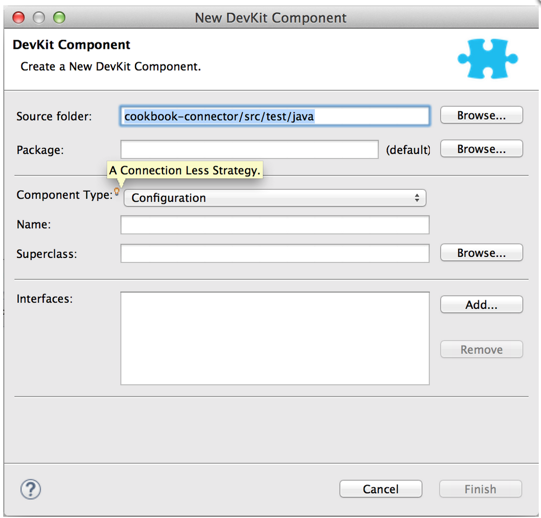 See Also
Access MuleSoft's Forum to pose questions and get help from Mule's broad community of users.

To access MuleSoft's expert support team, subscribe to Mule ESB Enterprise and log in to MuleSoft's Customer Portal.