Anypoint API Manager
Anypoint API Manager (API Manager) is a component of Anypoint Platform that enables you to manage, govern, and secure APIs. It provides an interface to configure the runtime capabilities of Anypoint Flex Gateway, Anypoint Mule Gateway, and Anypoint Service Mesh. With API Manager you can:
Enforce policies

Collect and track analytics data

Manage proxies and applications

Provide encryption and authentication
API Manager is tightly integrated with the following tools:
Before using API Manager, familiarize yourself with the user interface and the tasks you can perform therein.
The following video provides a quick overview of API Manager:
What API Manager Looks Like
To access API Manager, log in to Anypoint Platform and select API Manager: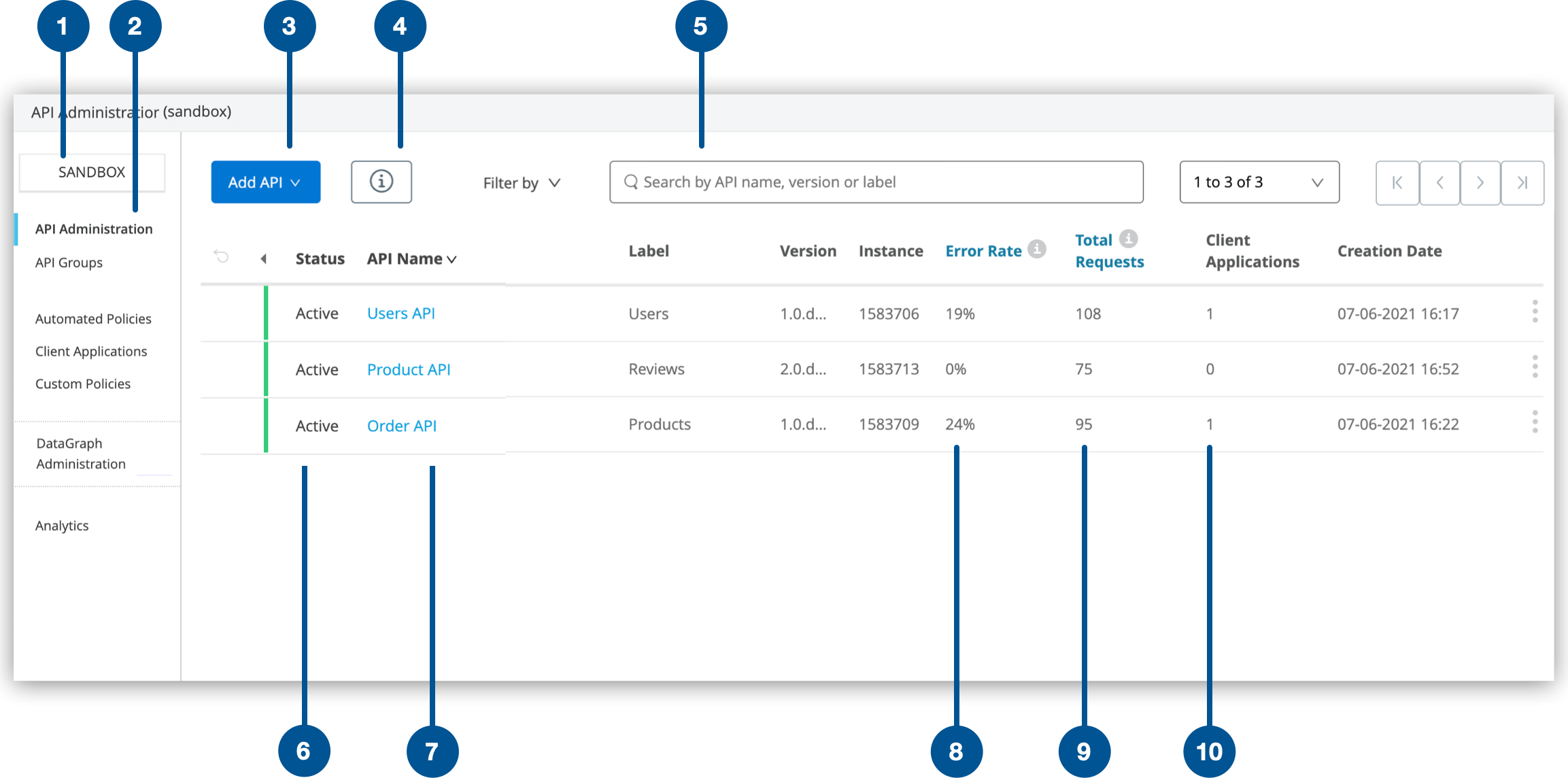 1
The environment selector. Anypoint Platform enables you to create and manage separate deployment environments for APIs and applications. API Manager displays all environments except design environments. For details, see Switching Environments.
2
Sidebar:
3
The Add API button. Enables you to add a new API instance, to promote an API from any environment to the current environment, or to import a configuration ZIP file that was exported from API Manager. For details, see Getting Started with Managing an API.
4
The Environment information button, available only to administrator users. Enables administrators to display a dialog with information about the current environment, such as environment credentials. Use environment credentials to provision the Anypoint Service Mesh adapter or to configure Studio to sync with your environment.
5
Search. Enables you to search for managed APIs using the API search field. Searches are case-insensitive. Filter search results by selecting Active.
6
The tracking registration status of each API: Active, Inactive, or Unregistered.

A status of Unregistered means that Anypoint Platform has never tracked the endpoint for this API version. Either you have entered a URL for an API or proxy that hasn't yet communicated with the platform, or you have declared an endpoint that is hosted somewhere other than an API gateway and need to proxy that endpoint so that the platform can track it.

The endpoint must have a tracking registration status of Active for governance policies and SLA tiers to function.

7
The name of each API. Clicking the API name navigates you to the API Settings view, where you manage the following:
8
The percentage of API requests that resulted in errors (in the past 24 hours).

If "No Data" is displayed, automatic monitoring has not been enabled for the API. For details, see Monitoring Quick Start.

9
The total number of API requests (in the past 24 hours).

If "No Data" is displayed, automatic monitoring has not been enabled for the API. For details, see Monitoring Quick Start.

10
The number of contracted client applications for each API. For details, see Client Applications and Contracts.